---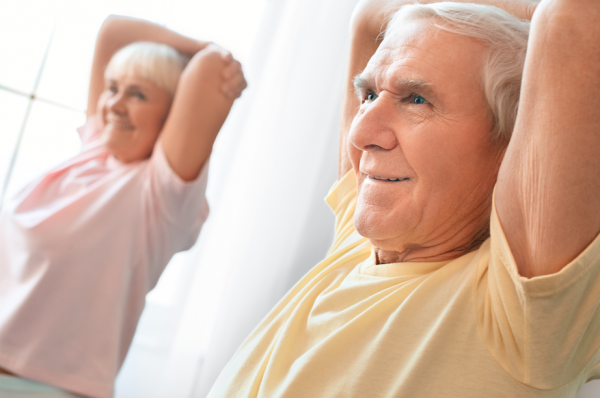 Chair Yoga
Chair Yoga helps participants stay healthy, vibrant, and confident without the worry of getting down to the floor or using a mat. We maintain mobility, improve flexibility and strength by focusing on small and large muscle groups as well as techniques to help you relax and deepen your awareness.
Monday 10:45am – 11:45am
Term 4 from 2nd Oct    $169 (10 weeks) * No class 6 Nov (Cup Eve)
Scroll down for more information. 
In stock
---
What is Chair Yoga at Balwyn Community Centre?
Chair Yoga is a specially designed yoga program for people with mobility issues and utilises a chair rather than a floor mat. It is one of the gentlest forms of yoga available and does not require participants to get up and down off the ground. It's a great option for those in older age or if you're coming back to exercise after an injury or time away.
Class exercises work to develop core strength and improve balance. Students deepen their flexibility and in time, achieve better mobility. Relaxation techniques enhance wellbeing and improve mental clarity. Students leave class feeling flexible and strong.
What to expect?
At Balwyn Community Centre you'll feel welcome in a small, friendly class. Students feel comfortable working at their own pace and ability. Having taught chair yoga for many years, class teacher Carolyn has experience teaching adults in older age and those exercising with illness or injury.
In class, you will cover seated, standing and prone poses. Complicated manoeuvres and complex movements are not part of a chair yoga class. Instead you'll focus on specific exercises to stretch and strengthen the body, as well as techniques to help you relax and deepen your awareness.
What are the benefits?  
Incorporating modified yogic technique and relaxation exercises, chair yoga has many health benefits, these include:
– Improved core strength
– Greater flexibility
– Better overall strength
– Improved mental clarity
– Enhanced overall wellbeing
You'll notice many of the benefits of chair yoga outside of class! Everyday activities become easier with improved strength and mobility. While feeling more relaxed and better mental clarity will help you conquer the day!
Who's this class for?
This is a low to no-impact exercise class and is ideal for adults in older age or those returning to exercise from injury. The class is suitable for beginners to advanced students. You do not need prior yoga experience.
Chair Yoga at Balwyn Community Centre is ideal if you'd like to include exercise as part of your weekly routine but do not want to purchase a gym membership.
What to bring to class:  
You do not need to bring a yoga mat and chairs are provided. Bring along a water bottle and towel. Wear loose, comfortable clothing. Shoes are not worn during class.