---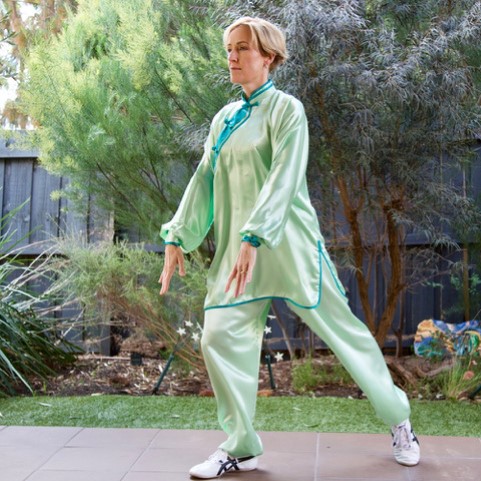 Qigong/Tai Chi
Term 2 Tue 14 April 10.45am – 11.45am (11 weeks)
Improve your health & vitality with the gentle exercises of Tai Chi combined with Qi Gong breathing techniques. You will leave the class feeling calm, focused and energised.
Scroll down for a full description of the class.
Out of stock
---
What is Tai Chi / Qigong at Balwyn Community Centre?
Tai Chi and Qigong are ancient practises that help to create a healthy body and mind. Originating in Ancient China, both are practised all over the world and by people from all walks of life.
Tai Chi and Qigong are easy to learn and deliver a range of health benefits. Comprised of movements that are repeated a number of times, they help to clear the mind and lift your spirit, often stretching the body, increasing fluid movement and building awareness of how the body moves.
Please note that this class is not for beginners. It is suitable for people who already have a clear understanding of the movements. If you are new to Tai Chi we recommend that you do our Tai Chi for Beginners class with Catriona.
What to expect
Each class we flow through several different forms of Qigong, along with Tai Chi exercises. Class is designed so that everyone can follow along to the slow, relaxing and gentle movements. It is not expected that you will practise at home during the week, although you can if you like! The class is like a moving meditation and you will leave feeling refreshed and energised.
Each class we flow through several different forms of Tai Chi and Qigong. You will learn how to relax and release unnecessary tension, to move slowly with grace and balance, to focus the mind on the task at hand and to be present and mindful.
What are the benefits?
Some of the benefits of Tai Chi and Qigong include:
– Improved balance
– Enhanced energy
– Improved muscle strength and flexibility
– Lowered blood pressure
– Increased ability to manage stress and anxiety
What to wear and what to bring:
No special equipment is required for this class. You'll want to wear loose, comfortable clothing and flat-soled shoes. Thinner soles are preferable to well-supported shoes and please don't forget to bring a water bottle.
New students please arrive to your first class ten minutes early to have a chat with the instructor.
Who's it suitable for?
Qigong/Tai Chi is suitable for people of all ages and abilities. This class is for people who have some experience.
Location: Term 2 Balwyn Community Centre, 412 Whitehorse Road, Surrey Hills
| | |
| --- | --- |
| Sessions | Term 4 Tue 16 October 10.30am-11.30am $137.50 (9 weeks) |