---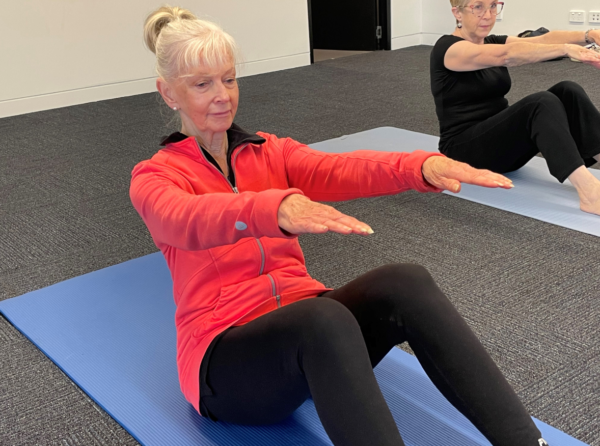 Pilates
Improve your core strength and body tone! Lisa Chan will be taking the class in Term 3 and Bill Humphries in Term 4. Both are qualified Pilates instructors. Suitable for all levels.
Tuesday 9:30 am – 10:30 am
Term 4, 2023 from 3rd Oct        $169.00 (10 Weeks) No class 7 Nov – Cup Day
"I realise the wonderful benefits of Pilates. Explanations and demonstrations by Bill are exemplary and I am continuing to remain flexible; have a reduction of aches and pains because of my core strength training; and Pilates has improved my posture and increased my body awareness. I am on the 70 side of 60!"
Scroll down for a full description of the class.
Out of stock
---
What is Pilates?
Pilates is a full body workout that focuses on core strength. Around the world, people of all ages and levels of experience do pilates. It's a fantastic way to strengthen and tone your whole body, prevent injuries and improve flexibility.
What to expect
Pilates exercises require concentration and perseverance. While it can take time to master some of the exercises, with patience and practice you will improve. Weekly class helps to build a strong core and to strengthen your whole body. Outside of class you will feel the benefits of pilates in your day-to-day activity!
At Balwyn Community Centre you'll feel welcome in a warm and friendly class environment, with people of all ages and levels of experience. With his attentive nature and expertise, instructor Bill will help you to get the most out of each class.
Benefits of Pilates include:
1. A longer spine which improves posture.
2. Assists in the prevention of back injuries.
3. Through controlled breathing, an increased lung capacity.
4. Improves balance and circulation.
5. Longer, leaner and stronger muscles leading to greater flexibility.
Who should do Pilates?
Pilates is for people of all ages. While our class can be challenging, with patience and perseverance all exercises can be mastered. It is never too late to start!
What to bring to class 
All exercises are undertaken on mats on the floor. While mats are available, it is suggested that regular attendees invest in a Pilates mat of their own.
If it is your first Pilates class, just bring enthusiasm and endeavour!
| | |
| --- | --- |
| Member/Non Member | Member $151.80, Non Member $161.80 |