---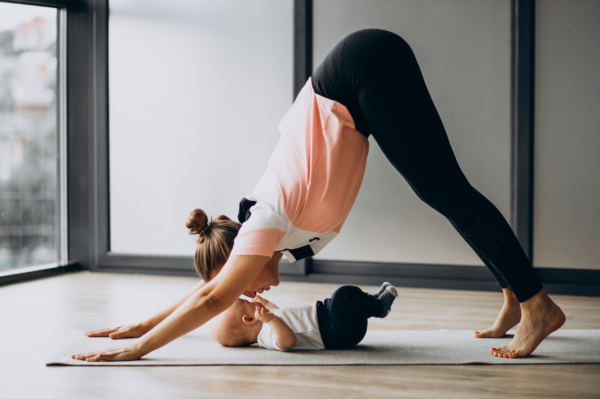 Mums and Bubs Yoga
This is a fun class for mums to attend with their bubs and enjoy the many benefits of authentic, holistic yoga sessions. The class is curated to support, nourish, and purify your body, mind and spirit while having deeper connection with your baby (6 weeks to crawling).
Thursday 10:45am – 11:30am
Term 2, 2023 from 27 April         $116.00 (9 Weeks)
In stock
---
CLASS FAQ
WHEN CAN I START DOING MUMS & BUBS CLASSES?
After your baby is born, you will have a scheduled 6 week check up with your midwife, obstetrician or GP. At this appointment they will tell you if you have the all clear to return to gentle exercise. When that happens, we'd love to see you!
CAN I DO THIS CLASS IF I HAVE NEVER DONE YOGA BEFORE?
Absolutely! This class is gentle and full of modifications so it's suitable for complete beginners.
WHAT SHOULD I BRING TO A YOGA CLASS?
– Bring a blanket for bubs to lay on and a few of their favourite toys.
– Feeding (breast and bottle) is encouraged in this class and if you're comfortable, you don't even need to leave your mat.
– Yoga Mats and equipment are provided. If you like, you can use a specialised non-slip yoga towel over the top of your mat although it's not necessary.
– Bring a drink of water.
– Wear comfortable clothes that are easy to move in.
IS THERE ANY CLASS ETIQUETTE I SHOULD KNOW ABOUT?
– Please turn your phone off or place it on silent before you come in.
– Remove your shoes as soon as you're in the door and place your bags etc. to the side of the room keeping the space around your mat clear.