---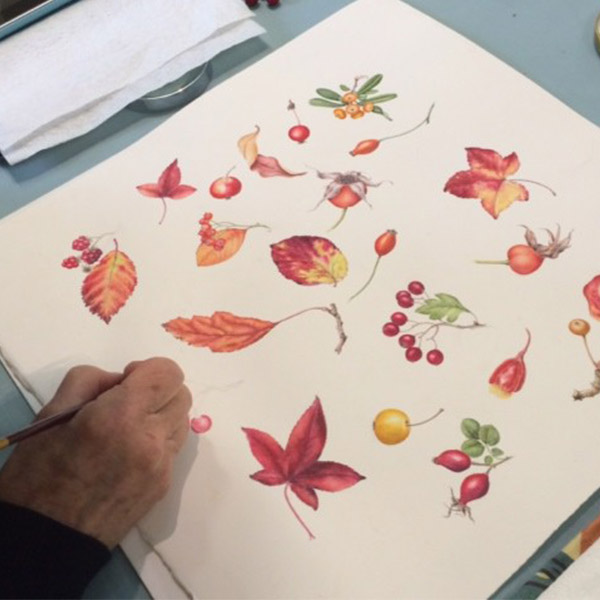 Botanical Painting & Drawing
Learn to paint or draw plants in this specialized class. Our tutor, Marg has many years' experience teaching botanical art. Suitable for all levels.
Wednesday  9:30am – 12:00pm
Term 3 from  13 July $274 (9 Weeks) 
Wednesday  1.00pm – 3:30pm
Term 3 from 13 July  $274 (9 Weeks)
Scroll down for a full description of the class. 
---
What is Botanical Painting and Drawing?
Botanical Painting and Drawing straddles art and science through the depiction of highly detailed, scientifically accurate illustrations of plants. With soft hues and intricate lines, botanical illustrations are beautiful to look at and require specific technique to create. You can find botanical art printed in books, magazines and other media or sold as individual works. In a professional setting, botanical art pieces are composed in consultation with a scientific author and are often accompanied by a detailed, scientific description.
At Balwyn Community Centre students are taught how to properly analyse the plant they wish to draw and to accurately depict the form, colour and details using watercolour. Whether you're new to art or would like to broaden your artistic skills, Botanical Painting and Drawing is a wonderful avenue to explore!
What to expect
This is a creative class with a strong technical component. Although art is inherently expressive, Botanical Painting and Drawing requires specific instruction and careful technique. Over the course of the term, students will work on a number of pieces. To begin, you'll be required to choose a specimen you wish to paint or draw. For the sake of longevity, you can take a photo and work from this week-on-week.
Your tutor, Marg has many years teaching botanical painting and drawing to students of all different ages and skill levels. Marg leads her class through detailed demonstrations, working with students one-on-one to help them overcome problems. You'll feel comfortable and up-to-speed in this small, friendly class as you enjoy learning alongside like-minded others.
Who's this class for? 
This class is suitable for students of all different skill levels, from beginners to the more experienced artist. Whether you're new to art or have some experience and would like to explore a different medium, you're more than welcome to enrol in Botanical Painting and Drawing.
What do I need to bring? 
For your first class, materials will be provided. Moving forward you' will need to purchase a range of materials. To see what you'll need click here.
| | |
| --- | --- |
| Sessions | Term 3 Wed 13 July 9.30am – 12.00pm $274 (9 weeks), Term 3 Wed 13 July 1.00pm – 3.30pm $274 (9 weeks) |