---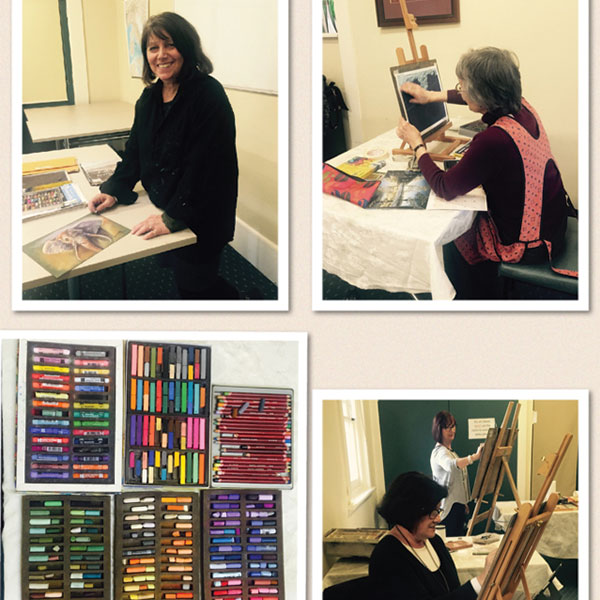 Pastel Painting with Farimah
Term 3 Tue 30 July 1.30pm – 3.30pm (8 weeks)
"Farimah is not only helpful, knowledgeable, and patient, but also flexible: able to cope with different ability levels and choices of subjects within any session. She listens to her students, and plans her lessons around what they want, happily making changes if that is the group's preference. I feel that this reflects the depth of her art training and abilities. Because I feel that my skills are improving, and the classes are so convivial, I am happy to make a round trip of about three hours weekly."
Scroll down for a full description of the class.
In stock
---
What is Pastel Painting?
Pastel paintings glow with an intense, luminous colour. This is because unlike paint or pencil, pastel is pure pigment! It's a unique media that requires the artist to first draw, layer and then smudge with their fingers. Pastel painting is lots of fun! It's a great way to start making art or to broaden your experience.
A pastel consists of pure powdered pigment and binder in a stick. It looks as though a cross between a stick of chalk and a crayon. Today, pastel painting is popular all over the world and is used by people of all ages and levels of experience to create vibrant, eye-catching art.
What to expect?
In this class, students learn the basics to advanced level of drawing and painting with pastels. You'll develop an understanding of the use of the material and acquire the ability to use different techniques such as:
– Smudging
– Cross-hatching
– Layering
With time and some practice students feel confident applying their new knowledge to produce artworks in a variety of subjects including still life, portraits and landscapes.
In class, you will receive individual attention from our experienced tutor, Farimah. Through exercises and demonstrations she will find solutions to your questions. She'll teach you specific techniques, special effects and give tips to help you get the most out of class.
What will I take home from class? 
Over the weeks of the course students will create a painting, or many depending on their pace, either by observation or using a picture and with a different theme or subject. By the end of the course, you will have completed one, two or many artworks to take home.
Who's this class for?
This course is suitable for adult students of all ages who have some experience in drawing or any other media. Beginners are also welcome.
What do I need to bring?
For your first class it is sufficient to have a box of 12 or 24 pastels (Mungyo, Mont Mart or equivalent cheaper brands) and 1 or 2 A4 or A3 papers or books.
For a full print-friendly materials list click here.
Location: Room 3 at Balwyn Community Centre