---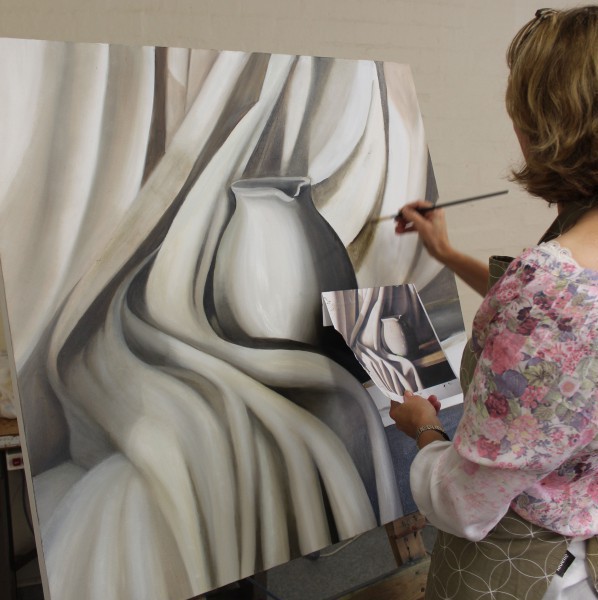 Oil Painting with Farimah
Term 2 Fri 3 May 10am – 12pm (9 weeks)
"Farimah is an excellent teacher, who is able to provide guidance that works best for my skills, and allows me to work independently when I need to. Her class has been a great introduction to oil painting."
Scroll down for a full description of the class.
In stock
---
What is oil painting?
For centuries oil painting has been used to create vibrant and beautiful art. In fact, some of the world's most famous artworks were created using oils – think The Starry Night by Vincent Van Gogh or Leonardo Da Vinci's Mona Lisa.
Compared to acrylic paint, oil paints have more pigment in them, allowing for richer, more vivid colours. Oil painting incorporates a range of techniques to produce different styles of art. Artists of all levels of experience and from all around the world choose to paint with oils.
If you'd like to improve your artistic skill, or are looking for a place to start experiencing art- this class is for you!
What to expect?
In class, students learn basic to advanced level skills of painting with oils. You'll gradually gain confidence in applying your acquired knowledge to produce artworks of a variety of subjects, such as Still Life, Portraits and Landscapes. You'll feel welcome in a warm, friendly environment and find yourself looking forward to class!
Some of the specific techniques you will learn include:
– Colour mixing
– Impasto
– Glazing
What will I do in class? 
Students receive individual attention from our experienced tutor, Farimah. Through exercises and demonstrations, Farimah will find solutions to your questions. Each week you'll learn different techniques and expert tips. Over the course of the term you will complete one, or many artworks.
Levels of experience
This course is suitable for adult students of all ages who have some experience in oil painting, or in other media. Beginners are also welcome.
What materials do I need to bring?
Please refer to materials list here.
For your first class, you may bring a very basic set of materials, such as a small set of cheaper brushes, blue, red and yellow, plus white tubes of colour, solvent and linseed oil. Discuss with your teacher about the rest of the materials on the list.   
Location: Class  is held in the Barn at Balwyn Community Centre